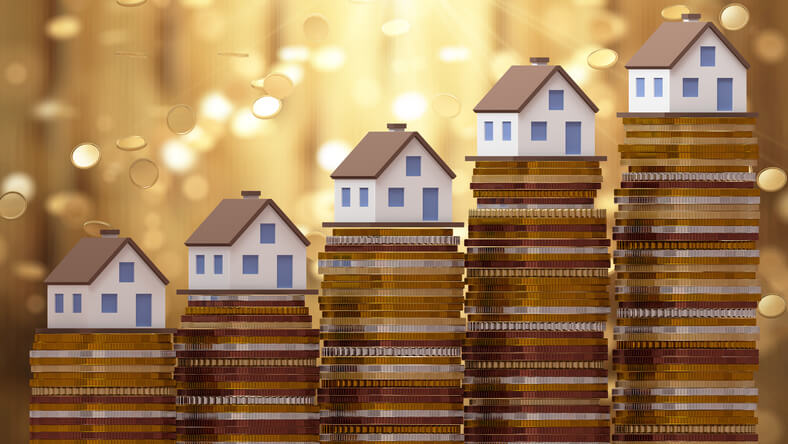 However, unlike close-end mutual funds, REITs gauge performance under different metrics. Rather than measuring performance by net asset value, REITs use a tool called funds from operations. Fund from operations is defined as net income plus depreciations and amortization, excluding gains or losses from debt restructurings and sales of properties. A REITs growth benchmark is a byproduct of funds of operations growth. Diversification – Investors turn to REITs and their good dividend paying potential for diversification against future market downturns because REITs are uncorrelated with equity markets. Built-in management Each REIT and its property investments are overseen with their own management team, saving investors tremendous time from researching each property's management team. Tax advantages REITs don't pay federal corporate income taxes and are required by law to distribute at least 90% of their annual taxable income as dividends, eliminating double taxation of income. Investors can also have a portion of REIT dividend income be treated as a return of capital. Inflation protection Since landlords are inclined to raise rents more quickly when inflation picks up, equity REITs which obtain most of their income from rents can be an inflation hedge.
For Big Commercial, there is NNN leasing that entails having the company renting the property takes care of all the trimmings of the property and pays you for leasing the space. Another Buy N' Hold strategy that can make decent money is to turn your Buy N' Hold property into a Vacation Rental and charge 3x as much than a normal lease. Then there is hard money lending, where you finance others in their fix n' flips, buy n' holds, or primary residence. Fix-N-Flip – Buy well below market value, remodel to market prices, and sell it immediately to get your return. Turn-Key-Investing – fix-and-flipper, but sells remodeled properties to out-of-town individuals seeking a good place to keep their money moving. NNN Lease – Big Businesses rent the building and pay all costs associated with the building such as maintenance, taxes, insurance, and more. We can own these buildings for highly-passive income. Cash Purchase, Sell on Contract – Buy properties and immediately re-sell them to buyers who may not be able to conventionally qualify for a mortgage.
Fannie Mae and Freddie Mac have eased up a slightly on this rule. The amount of properties you may have financing for is between five to 10( previously four) if you fully document your income, assets and employment. The other criteria is that you must have a credit score of 720 or higher and have cash reserves equal to six months' worth of payments for every property you own. Guess what, for those of you who are self-employed, the limit won't matter, because you can't document six months' payments in cash for every property owned. Gotcha on that one! Because the government tells professional real estate investors that they can only own five to 10 income producing properties at a maximum, this limits them, much like telling a cab company, for example, that they can only have five to 10 cabs on the street. Freddie and Fannie now say that a property has to be held for at least 12 months before a "cash out" refinance could be done.
Additionally banks and lenders in these areas have become more accommodating and are willing to be more flexible so that those interested in a home get a great deal on a loan. Currently the majority of investors are flocking to a few principal locations of which, Florida and California are two. Within Florida investors are finding that in communities such as Boca Raton prices have been radically reduced on some extravagant homes. Boca Raton real estate presents investors with the type of opportunity they long for as upscale homes in luxurious communities often rise in value sharply especially when the real estate market is in a state of recovery. Homes in Boca Raton are attractive to those people looking for an upscale, quiet, and secure type of lifestyle and investors rarely have trouble reselling such homes regardless of market conditions. Specific areas in California hold the same draw as areas like Boca Raton do in that they currently have chic homes on the market that have seen some fairly impressive price reductions.